Nottingham Trent University Case Study
Nottingham Trent University (NTU) is a multi-award-winning institution recognised for its exceptional standards of teaching, research and student satisfaction. The University requires an efficient, reliable travel management programme that can meet all of its travel needs, whether for staff research trips or large student outings. That's where Diversity Travel comes in.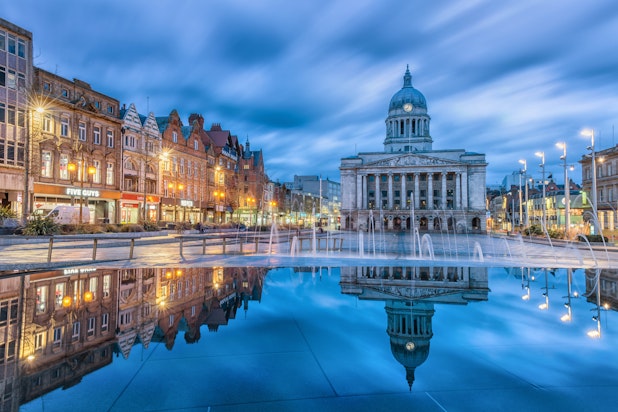 Client Requirements
Ultimately, NTU were searching for a Travel Management Company that could:
Improve efficiency across their whole travel programme, from their payment process to agent response times
Improve the booking experience by making better use of feedback and providing as much support as possible to bookers
Listen carefully to the University's requirements, working together to fulfil them
As many of the above issues were interlinked, it was important to utilise the skills across every team at Diversity Travel to better integrate travel services into the business and achieve all of the desired outcomes.
After developing a thorough understanding of the expectations that NTU had from its travel programme, Diversity Travel's Account Management team set about creating a plan of attack to solve existing issues and help accomplish their goals. The University's team were heavily involved every step of the way to ensure all decisions were client-driven.
Diversity Travel's Solution
1. Creation of consolidated invoicing system
Before appointing Diversity Travel, NTU were challenged with a decentralised payment process which involved managing multiple invoices. This was adding unnecessary labour for the Finance team, as well as extra expense for the University.
Diversity Travel's IT experts worked closely with the University to implement consolidated invoices that would feed directly into their systems. The new method resulted in a significant reduction in manual processing, allowing NTU to cut down on admin costs with the transferral of two staff members from Operational Purchasing into Commercial Procurement. With this streamlined payment process, NTU were also able to benefit from a transactional fee saving which continues to drive down costs for the University.

2. Introduction of dedicated NTU team
Prior to Diversity Travel, NTU had an internal travel team through which all staff members would need to book their travel. By moving the University over to a new booking model whereby everyone is able to arrange their own travel independently (whether that be online or offline), NTU has been able to reduce admin costs and save bookers the hassle of making arrangements through another party, which could often cause confusion.
A dedicated team was created specifically for NTU to improve the overall experience for bookers. The team is comprised of Diversity Travel agents who specialise in academic travel. With their in-depth knowledge and expertise of the sector, they are able to provide bookers with the high standard of customer support they deserve. The allocation of the team has allowed for improved SLAs and speedier response times.
3. Academic fares
In addition to the cost savings mentioned above, NTU now benefits from exclusive academic fares. Diversity Travel's Supplier Relations team has worked hard to source and negotiate improved fare content and rates that add value to NTU's travel programme. They are continually assessing areas where new contracts may be beneficial, and this guarantees the best value and most flexible travel options for bookers.

4. Launch of microsite
Discussions between Diversity Travel's Account Managers and key stakeholders at the University led to the decision to launch a microsite for bookers. It was agreed that the microsite would act as a one-stop travel hub for NTU bookers, containing all of the information they would need regarding Diversity Travel and its services.
Among other things, the hub now includes:
Overviews of all travel services
Links to relevant booking tools or email addresses
A collection of video user guides about our online tools and other services
Information about our 24/7 support and risk management programme
Important contact details
Thanks to the continuous collaboration between Diversity Travel's Marketing department and the team at NTU - both during the creation of the microsite and the launch itself - bookers can now find everything they need in one easy-to-access place, reducing the
number of support calls and eliminating confusion in the booking process.
5. Consolidated feedback to identify areas for improvement
To further improve the booking experience for NTU staff, both teams thought it would be beneficial to capture all booker feedback within a single source. A feedback form was added to the NTU microsite, offering a comprehensive overview of feedback.
The ability to pull reports enables Diversity Travel's Account Management team to identify recurring trends, patterns or issues faced by the University's bookers and work with the client to implement solutions accordingly.
Diversity Travel has been able to deliver client-led solutions that go beyond award-winning account management. This has been possible through the cooperation of multiple departments at Diversity Travel and the effective communication with NTU.
The University now benefits from:
Increased efficiency in the form of a new centralised invoicing process
Access to Diversity Travel's specialist fares which reduce costs and increase flexibility
A meaningful connection with a TMC that carefully listens to the needs and goals of the University and actively aims to engage bookers
Greater insight into the thoughts of bookers, allowing the team to be more proactive in gathering responses and delivering the appropriate solutions
The relationship between the two teams remains strong, and both are always seeking new ways to improve and expand on the University's current processes. The combined efforts of client and supplier have led to Diversity Travel becoming NTU's first Gold Standard Supplier, meaning that the company is integral to the University's operations.