Organising your group travel plans for a successful trip
Organising your group travel plans for a successful trip
Travel services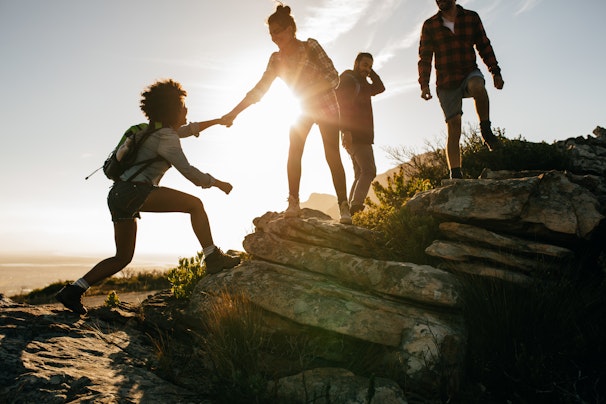 Travelling with a group of friends, colleagues or even strangers is an experience like no other and can be a lot of fun. However, it's important to plan ahead so that the group trip runs smoothly.
There are lots of elements that go into a successful group holiday or trip. This includes organising group transport, booking activities and finding group accommodation. Without the right guidance and careful preparation, it's easy to make mistakes.
To help you on your way, this blog post is going to cover the important elements of organising group travel plans. We'll also take a look at some ways that you can save money when booking group travel.
Factors to consider when travelling as a group
When it comes to organising your group travel plans, there are several important factors to consider. To ensure you've covered all bases, you'll need to ask yourself questions such as:
What is everyone's budget?
How many people are travelling?
What type of group is it (family, friends, work colleagues)?
Will there be children involved? If so, what age range and how many of them will there be?
Do you need to organise group transport or can you hire a car or chauffeur for the trip?
How long is the trip and how far in advance should you book flights and transfers etc.?
We've answered the questions above and more below to help you get started.
Group size
Booking group travel for three people will always be easier than booking for 30 people. The larger the group, the more there is to consider, but you can also take advantage of better discounts on excursions and transport if you're travelling with more people.
When booking flights for groups, you may not be able to get seats together if you're travelling in a group of 4 or more people. In addition, you may want to consider booking a coach or minibus if you're travelling as part of a large group between different destinations.
Type of group
Are you organising group travel plans for friends, family or colleagues? All three options require different approaches when it comes to booking group travel.
If you're organising group travel for family members and there are children involved, you'll need to book age-appropriate excursions and child-friendly transport. If the group is small enough, you may find it beneficial to hire a car, minibus or a car with a driver. This provides a comfortable travel option for families and gives you more flexibility when travelling between destinations.
Alternatively, if you're organising a business trip, you can normally take advantage of corporate discounts when booking hotels and accommodation. When it comes to corporate travel, there's rarely time to fit in sightseeing between conferences and meetings, so it's likely that you'll only need to plan transport and hotels.
When travelling with friends, you'll also need to consider the types of activities everyone wants to take part in, as well as accommodation preferences, so you can book these well in advance.
Group transport
The transport you choose will largely depend on your group size and your final destination.
For domestic trips, car, coach or train travel can be a great option for many group sizes. Whereas, for overseas trips, group flights are often the most practical option.
Excursions
Whether you want to visit a local museum or go on a hot air balloon ride, planning your group excursions in advance will ensure that all members of your party are catered for.
Depending on the popularity of the attraction, tickets may sell out and you won't have enough space for everyone in your group. Booking excursions in advance will help you to avoid this scenario and you can also take advantage of bulk discounts, depending on how many tickets you're buying.
The benefits of group travel packages
Instead of booking all of the above yourself, you could buy a group travel package for your trip. These usually include:
Flights and accommodation
Transfers
Tours and excursions (optional)
The main benefit of this is that your tour operator or trip planner will do all of the hard work for you. They'll ensure that all essential aspects of your trip are pre-booked. In some instances, you can even get your own tour guide that will support you throughout the duration of your trip.
Some additional benefits of group travel packages also include:
Discounts for larger groups
Accommodation recommendations based on group size and interests
Pre-booked flights with a group discount
A pre-planned schedule that allows you to relax and enjoy your trip from start to finish
If you're travelling with your family, friends or colleagues and are looking to book transport, accommodation or activities in one go, consider purchasing a group travel package for better rates.
How can Diversity Travel help?
We're the experts when it comes to creating bespoke, comprehensive group travel plans. Whether it's your first time travelling as a group or you've organised many group holidays, our group travel services will ensure your trip runs without a hitch.
Our team can book hotels and transfers, organise meeting spaces, consolidate payments and more to alleviate the burden of planning from you and your group. Get in touch to learn more about how we can help you organise a stress-free group trip.