Your guide to testing requirements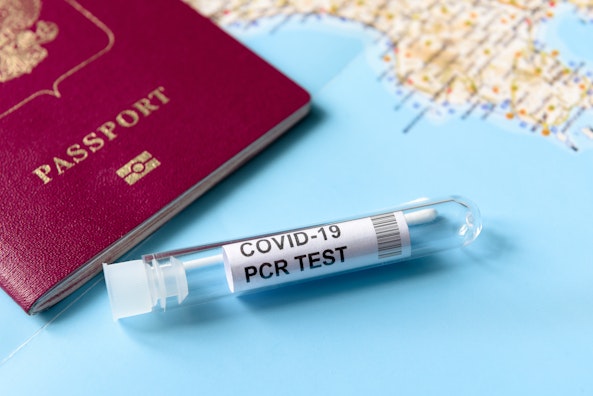 Before you travel, it's essential that you find out the COVID-19 testing requirements of your destination country. This will vary depending on the location that you're travelling to or from, how long you're staying for, and whether or not you're fully vaccinated. You can check the country's COVID-19 rules and requirements on their government website.
What do you need to consider?
There are a few main points to think about before picking a test:
Choose whether to go in person to a test centre or do a test at home. Going to a test centre may be more reliable, as the test will be carried out by a professional. It will also remove the risk of delays from having to courier your sample to the testing company. However, at-home testing may be more convenient depending on where you're based.
Which tests does my destination country accept? Some countries will only accept results from certain kinds of tests. Check your destination's requirements beforehand to avoid being turned away at the airport.
What is the expected processing time for the result to be given? Find this out in advance so that you get your test results in time for your departure date. You'll also need to factor in the arrival time at your destination, as well as the time difference – both of these may influence your approval/rejection in the country. For example, if you receive your test results 48 hours before you're due to arrive but the destination country is two hours ahead, you may be rejected.
Will the certificate be issued in the correct format for your destination country? Again, your destination country may only accept negative results in a specific format. You'll need to find out which formats are accepted before you travel.
Testing providers
NHS tests are not valid for travel, so you must get tested through a private provider. While Diversity Travel doesn't have a testing partner, many airlines and airline alliances do. We highly advise checking your airline's website in advance of departure, as they'll have information about testing providers and may offer PCR tests at discounted rates.
Most major airports also have testing centres, so it's worth checking your departure airport's website for more information. Remember to do this ahead of time, as you'll need to factor in the time it takes for test results to come back before your departure date.
Prepare before you travel
For added peace of mind, Diversity Travel's partnership with Sherpa means that bookers can now access the most up-to-date information on a country's COVID-19 travel requirements, including testing and quarantine requirements. You can access Sherpa in a single click from anywhere within Diversity Travel's online booking tools, making it easy to find the information you need during the booking process. Alternatively, you can head to the platform via this link.
You may also want to consider purchasing flexible tickets to deal with potential scenarios such as positive or inconclusive test results or delays in your test results being returned to you. This will ensure that you can postpone your departure date, rather than having to cancel your flight and lose your money.
If you have any questions about testing requirements, you can contact your dedicated Reservations team for more advice and guidance.