Working together to help others
Diversity Travel takes pride in the strong relationships we build with our partners and suppliers. We believe this is essential in delivering the best value to our clients, as we are able to offer them highly competitive rates and conditions on a wide range of content. A few months into 2019, we began thinking: what else could we be doing with our suppliers to really make a difference in the world? Something that goes beyond the scope of negotiated fares to transform people's lives? This thought was the beginning of our partnership with Virgin Atlantic and Delta Air Lines…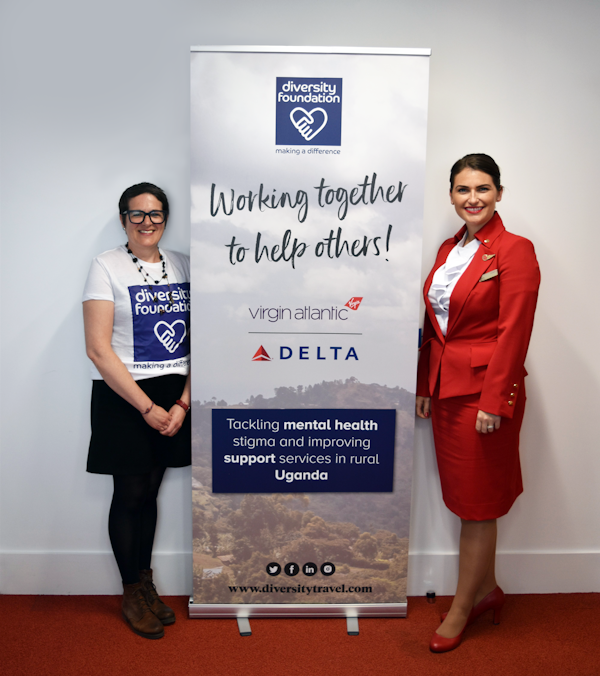 Working with Suppliers
Diversity Travel's Supplier Relations (SR) team continually identify and develop strong relationships with travel suppliers, including most global airlines, accommodation partners and and many smaller niche country carriers.
The ultimate goal is to offer clients a range of fare content and rates tailored to their needs, whether
they're looking for low-cost hotel options in the city or greater flexibility when booking complex multistop flights. By continually assessing areas where new suppliers may be beneficial and by negotiating improved contracts with existing partners, the SR team are committed to delivering the best fare offering to all of our clients.
The team are able to do this by maintaining meaningful relationships with our partners and suppliers. This is achieved through regular face-toface meetings, phone calls and emails to ensure open communications channels, as well as attending external events and conferences with suppliers to share the experience with them and facilitate stronger relations.
It is also critical for the whole Diversity Travel team to understand the value offering of our suppliers. It is the SR team's responsibility to ensure this message is conveyed across the business, so that agents can effectively promote the fare content. Some of the tools used to foster cohesive working include Lunch and Learns, opening the office to walkarounds, online training tools and supplier incentives.
The cooperation between internal departments and the close bonds we hold with our suppliers are the most effective ways to reach our objectives. For these reasons, we were able to successfully partner with Virgin Atlantic and Delta Air Lines to achieve a common goal: to provide support to the Diversity Foundation
The Diversity Foundation
The Diversity Foundation is Diversity Travel's inhouse charity. Set up by our co-founder, Harish
Sodha, it aims to improve mental health services, treatment and stigma in the rural Ugandan community of Bwindi. Harish, who was born and raised in the country, knows only too well the lack
of support for mental health sufferers. It is estimated that up to 90% of those suffering with mental health issues do not receive treatment of any kind, with many being mistreated or locked away.
The Diversity Foundation was established specifically to promote mental health awareness,
reduce hospital admissions, train village health teams to identify patients, and provide much needed resources to Bwindi. The dedicated staff at Bwindi Community Hospital understand the need for improved understanding and treatment, and even started a community mental health service in 2013.
However, they recognise that there is still a lot of work that needs to be done to help them reach their goals.
What is Diversity Travel providing?
With the money that Diversity Travel is providing, we will be able to deliver a number of resources
to the community of Bwindi. These include a new motorcycle, laptops, the funding of radio shows that
reach out to all villages, payment for certain drugs and the full salary of an additional member of staff.
Sarah Burrows, Non-Executive Director at Diversity Travel, has visited Bwindi for the past few years. She has witnessed how individuals with mental health issues are often discriminated against, but she has also seen how the Diversity Foundation has since helped these individuals. "It's made a massive difference to the people who have been identified as suffering from mental health issues," Sarah
explains. "Those people are now taking a full part in the community. They're working, they're looking after their children - they're no longer feared. They've been able to go on to play a really important role in their families and their communities".
The incentive
Diversity Travel found a common goal with Virgin Atlantic and Delta Airlines: delivering an incentive
that supported the Diversity Foundation and the positive work it does.
Communication
For the month of September 2019, the airlines agreed to donate £5 to the Diversity Foundation for
every booking made on a Virgin Atlantic or Delta Air Lines flight. In cooperation with the Supplier Relations department, the Marketing team created a comms plan to promote the incentive.
The aim was to spread the word as much as possible in the run-up to September, thus motivating
our Business Travel Agents to book as many Virgin Atlantic / Delta Air Lines trips as they could on the
exclusive fares we offer to clients. This determination was heightened further when an extra incentive
was added: the agent who made the most bookings would be rewarded with a long weekend off,
courtesy of Virgin Atlantic.
Office visit
Prior to the launch, we invited Jimmy Rowan, Account Manager at Virgin Atlantic, along with
members of the cabin crew to the Diversity Travel office. We further discussed our goals and created
a video about the purpose of the incentive, allowing us to reinforce our relations and produce engaging content to distribute internally and externally.
Afternoon tea service
During the month itself, we were delighted to have members of the Virgin Atlantic crew serve
afternoon tea to the Manchester office. The team enjoyed some tasty sandwiches and treats available
on-board Virgin Atlantic flights, and the crew answered any questions that team members had about the airline. The day helped to inform our agents more about the airline's offering, as well as giving a boost to the incentive itself
Outcomes
The partnership with Virgin Atlantic and Delta Air Lines was a first for us, but we certainly hope it isn't
the last! The collaboration between Diversity Travel and the two airlines saw us raise £3475 for the
Diversity Foundation – an amount that will enable us to continue providing mental health support to Bwindi for a long time to come.
We are extremely grateful to the airlines for providing the incentive and allowing us to achieve such an incredible amount. The experience has undoubtedly strengthened the bond between us, and we hope to partner with them again in the near future.
We always encourage our suppliers to get involved with events and incentives with us, even more so
when our combined efforts can positively contribute to communities in need. We believe that such
partnerships can offer invaluable benefits, both to ourselves and our suppliers. To name just a few:
It raises the supplier's profile internally by refreshing agents' knowledge around their products and content. This can then be relayed on to our customers and clients to demonstrate the exclusive fares they have access to
Similar partnerships act as tangible evidence of positive ethical credentials
It highlights the strength of the relationship between the supplier and Diversity Travel, whilst delivering a positive action
It builds customer trust in the supplier and ultimately delivers value to them in terms of the spend that clients want to share with those suppliers, whose offer is enhanced by all of the
actions above.
We are looking forward to joining forces with more of our suppliers in the future to continue changing the lives of others.