British Red Cross partners with Diversity Travel
As it continues to provide vital aid and humanitarian assistance across the globe, the British Red Cross has struck a new partnership with the UK's foremost specialist travel group, Diversity Travel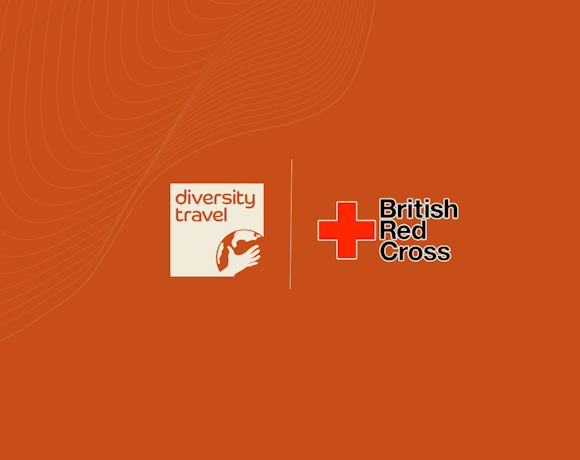 The partnership will see Diversity provide travel planning and organisation assistance to the charity and its workforce of more than 21,500 staff and 4,000 volunteers, who deliver humanitarian support around the world as part of the global Red Cross Red Crescent Movement.
2022 has already proven to be a busy year for the British Red Cross, which is supporting people afected by crises in the UK and overseas.
In just the past eight months, the charity has responeded to the devastating earthquake in Afghanistan, extreme weahter which has affected millions of people in Pakistan, the food crisis impacting large parts of East Africa, and the ongoing conflict in Ukraine.
The new partnership will see Diversity offer a range of exclusive services to staff and volunteers including specially priced deals on flights, accommodation and transfers, access to lounge services, visa support and vehicle hire.
The British Red Cross joins Oxfam, Save the Children, Plan International and more of the worlds largest humanitarian groups, charities and NGOs choosing to work with Diversity on its global travel logistics.
Dorothy Brown, Chief Operating Officer for the British Red Cross said: "The British Red Cross and the wider Red Cross Crescent Movement support people in cirises, whoever and wherever they are. That can mean people dispatched from their homes, caught up in conflicts or affected by disasters, extreme weather, and the effects of climate change. Emergencies like these can strike anywhere, at any tiem. That's why we need fast, efficient and reliable ways to get our staff and volunteers to where they're needed. We look forward to working with Diversity Travel to achieve this.
Sam Whittle, Commercial Director for Diversity Travel commented: "The British Red Cross, as part of the global Red Cross Movement, provides vital support for countries and communities across the planet, and we're proud to support that incredible mission by finding more efficient, more sustainable and more cost effective travel solutions for its workers. As the leading provider of travel services to the charity, NGO and not for profit sectors, we will use our experience to make a real difference for the British Red Cross in supporting its aid work wherever that may be."